Due to COVID-19, swim lessons are not being offered at this time.
2020 Swim Lessons
Calypso Bay offers comprehensive levels of swimming that teach participants how to swim skillfully and safely. Our instructors are trained and certified by The American Red Cross, so swimmers of all abilities are in good hands. Calypso Bay Waterpark offers swim lessons for ages 3 & up during the summer months.
In addition to the skills outlined below, each level of Learn-to-Swim includes training in basic water safety and helping others in an emergency.
LEVEL 1 - Introduction to Water Skills:  Helps students increase their comfort in the water.
LEVEL 2 - Fundamental Aquatic Skills:  Gives students success with fundamental skills.
LEVEL 3 - Stroke Development:  Builds on the skills in Level 2 through additional guided practice.
LEVEL 4 - Stroke Improvement:  Develops confidence in the skills learned in previous levels and improves techniques for strokes.
Pre-Competitive Swim Program
Participants will learn the fundamentals of competitive swimming, the four competitive strokes, technique, starts and turns.
Coaches will work with individuals on stroke technique and offer workouts to build endurance.
Participants must be able to complete 25yd. freestyle, 25yd. backstroke, and 25 yd. breastroke 
Adult Learn to Swim
Adult Lessons are offered on Tuesday and Thursday evening after the park closes.  We welcome all skill levels and will work with all in a group setting, along with providing one on one attention.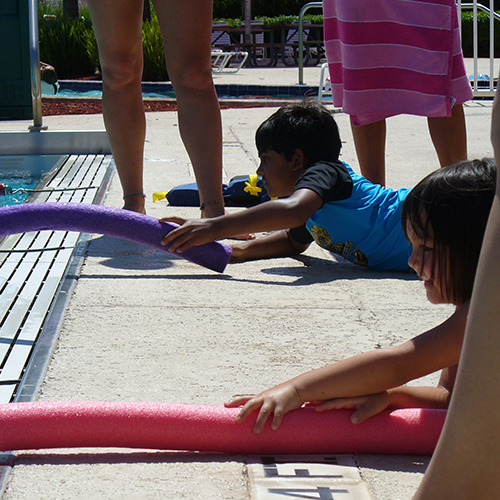 Summer Session
Summer 1:
Dates: June 1-10 
Registration: TBA
Summer II: 
Dates: June 15 -25 
Registration: TBA
Summer III:
Dates: July 6-16
Registration: TBA
Summer IV:
Dates: July 20-July 31 
Registration: TBA
About the Swim Lessons
Classes are taught by American Red Cross certified Water Safety Instructors
Each Summer Session is held mornings only, Monday—Thursday for two-weeks, eight classes
Each class is 30 minutes in length
Class times will be determined prior to registration
Registration is on a first– come, first– serve basis
Fee: $65.00 per student, per session